​[Announcement] Eternal Saga Events for 4/17 – 4/23
Posted:04/16/2014 by:
Duration: 4/17 - 4/20 server time
Servers: S1-S36, K1
Description: Purchase one or all of the 1,000 Gold, 4,000 Gold or 10,000 Eternal Funds. Each purchase offers instant rewards including an investment pack and bound gold! You'll also get benefits that keep on coming; collect a bundle of bound gold for 8 consecutive Mondays starting the first Monday after you've made your initial purchase. Each player can purchase each type of fund once.

How to get the rewards:
Open the main Eternal Fund window, buy a fund, and click "Collect"; the rewards will be delivered directly to your inventory. And don't worry if you miss a week; rewards that you forget to collect can always be collected later. Note that all rewards are bound.
Note: Eternal Funds are not so eternal; this will be the FINAL TIME the event is run. If you've been thinking about getting one of these, now's your last chance!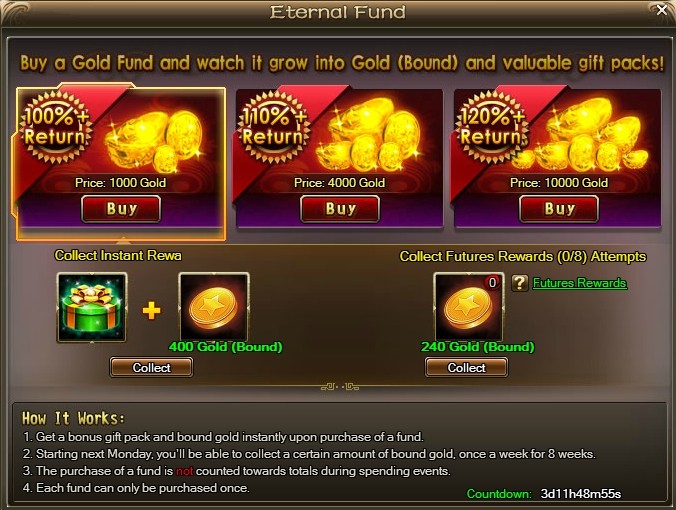 Lucky Wheel
Duration: 4/20 – 4/23 server time
Servers: S1-S35, K1
Description: Feeling lucky? From 4/20 - 4/23, every 200 Gold you spend in the Shop gets you a spin of the Lucky Wheel. Each spin is a chance to win valuable prizes, including Mount Potential Pills, Pet Potential Pills, Sprite Potential Pills, and more!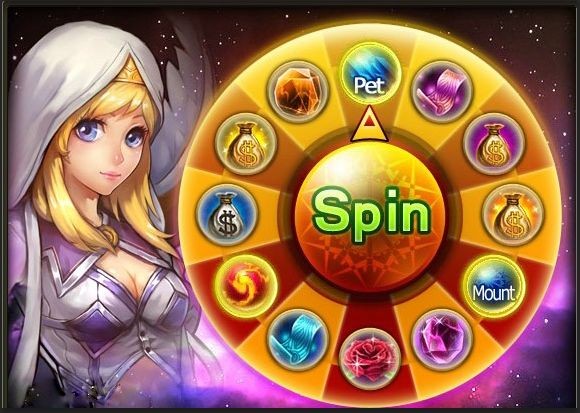 X-server Charm
Duration: 4/20 server time
Servers: For servers that have X-server events
Description: Be in the top 30 of the X-server Charm rankings at the end of each day and be rewarded! Rewards will be sent out daily.
| | |
| --- | --- |
| Rank | Rewards |
| 1st | 999 Rose Basket x5, Sweety Fruit x5 |
| 2nd | 999 Rose Basket x4, Sweety Fruit x4 |
| 3rd | 999 Rose Basket x3, Sweety Fruit x3 |
| 4th-10th | 999 Rose Basket x2, Sweety Fruit x2 |
| 11th-30th | 999 Rose Basket x1 |
Dream Lotto
Duration: 4/21 – 4/23 11:59 PM (Server Time)
Servers: All
Description: Make a wish and get valuable items. Each wish costs just 20 Gold - click the "Dream Lotto" event icon to get started. Items in the wish pool include: Mount Soul Essence, Pet Soul Essence, and more… Note: VIPs get a 20% discount!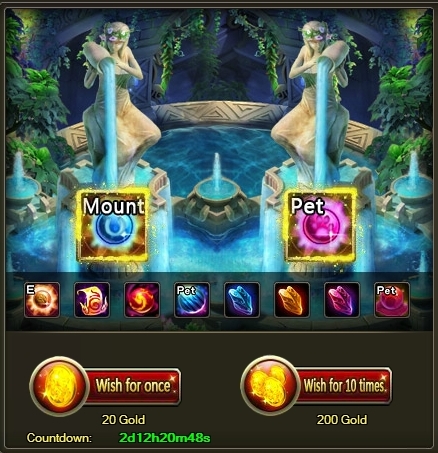 DISCUSS THIS ON THE FORUM

+