​[Announcement] Eternal Saga Events for 4/3 – 4/9
Posted:03/30/2014 by:
Magic Crystal Bonus
Duration: 4/3 - 4/9 11:59 PM (Server Time)
Servers: S1-S35, K1
Description: Recharge during this event and get exclusive Magic Crystal Packs. Open the packs to obtain Magic Crystal, which can then be used in a special shop that's accessed by clicking the "Crystal Cave" event icon. The items for sale there will reset daily, so keep checking in to see what's available.
Dream Lotto
Duration: 4/5 - 4/9 11:59 PM (Server Time)
Servers: S1-S35, K1
Description: Make a wish for rare and valuable items, and for just 20 Gold your wish might come true! Click the "Dream Lotto" event icon to get started. Items in the wish pool include: Mount Soul Essence, Pet Soul Essence, and more! Note to VIPs: Your 20% discount applies here!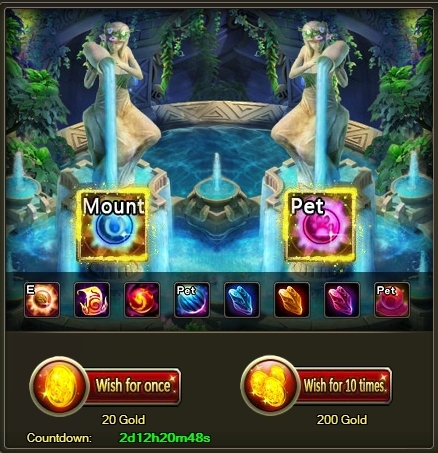 Demon Invasion
Duration: 4/5 from 18:30 - 19:00 PM (server time)
Servers: S1-S35, K1
Level: Lvl. 40+
Description: Prepare to be invaded! On April 5th from 18:30-19:00 (server time), waves of monsters will be storming the Enchanted Land. Level 40+ players who are up to the challenge must fend off a wave of these savage beasts once every six minutes, through a total of five waves. Rewards include Soul Shards, Demon Shards, Dragon Shards, EXP, and Sprite related items.







Supercharged Events

Duration: 4/3 - 4/9 23:59 (server time)

Servers: All




Description: Want to see more treasure guards when using treasure maps, legendary stars in Star Shrine, and legendary fish in the Fishing event? If you answered yes to any of these, you're in for a treat: for the following week, all three will be happening!

DISCUSS THIS IN THE FORUM!

+