​Friends
Posted:07/11/2013 by:
With this system you can chat, trade, and form a party with your friends. Partying with a friend gives you intimacy which will give bonus attributes when you are in a party with him or her.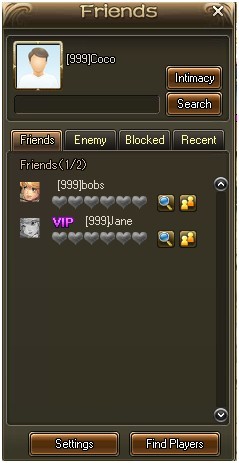 There are 3 ways to add friends.
1. Open the friends interface (hotkey F), click "Find Friends" and input a name, then click "Add Friends".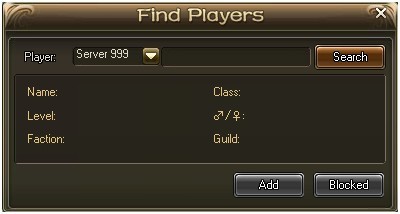 2. Find the player you want to make friends with, click the character and his/her face icon will appear at the top of the screen. Click on the face icon and select "Add" function.

3. Click the character's name in the chat channel and select the "Add" function.




Press "F" and locate the friend's character name, then left-click and select "Delete". Intimacy between will be lost with this friend if you delete them




You can also block certain players from messaging you. Players you block cannot share intimacy with you.

1. Press "F" and locate the friend's character name, then left-click and select "Block".




+