​Guild Shop
Posted:07/10/2013 by:
A place for aspiring businessmen and women to sell rare items exclusively to guild members. Guild members can use their individual guild contribution to purchase items in their guild shop. Higher level guilds unlock higher level guild shops.
Getting Started
Open the Guild interface, choose the Guild Info column, and click shop.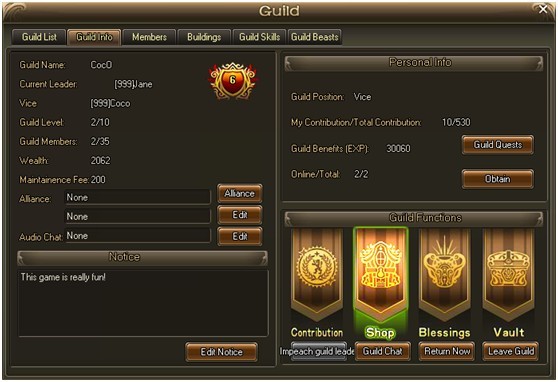 Players can also enter the shop via the Buildings column.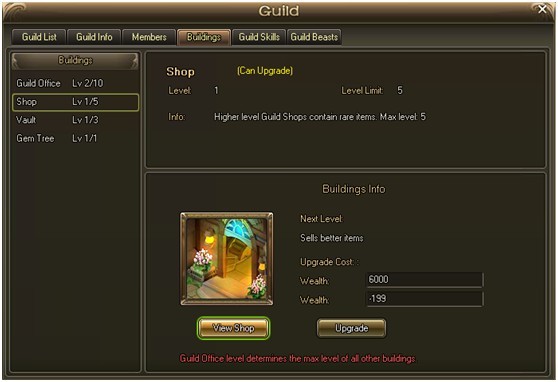 Rules
1.Guild Shop has a level cap of 5. Different level shops sell different items.
2.Guild members need to use individual contribution to buy items
3.All items purchased through Guild Shop are bound.
4.A limited number of items will be sold in the Guild Shop each day, and each day guild members can buy a limited number of these items.
5.Guild Shop resets every night at 11:59. Item and purchase limitations will also be reset at this time.
6.Shop level is based on guild level.
| | |
| --- | --- |
| Shop Level | Guild Level |
| 1 | 1 |
| 2 | 2 |
| 3 | 3 |
| 4 | 4 |
| 5 | 5 |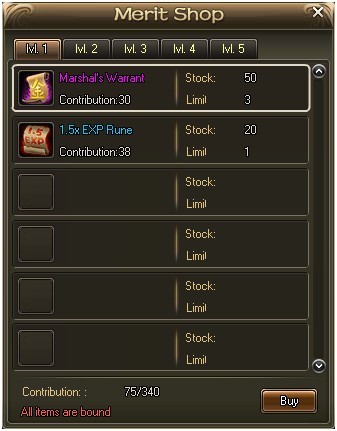 +