​[Patch Notes] Eternal Saga 6/5 Update
Posted:06/04/2014 by:
Events
It Pays to Consume
From June 5th to June 11th, spend certain amounts of Gold and be rewarded! You can view and redeem available rewards by clicking the "Timed Rewards" event icon in the top-right corner of your screen.
Red Hearts Drop
From June 5th to the next maintenance, Red Hearts will be dropping in Demonhunt, Scimitar Valley, Molluscan Alcove, Elphame, Shadow Keep, and Demonsburg. Use them in the Forge to synthesize Celebration Packs containing a special buff and special items!
Guild Inferno
Available for all Lvl. 4+ guilds, Guild Inferno can be started once per week by either the guild leader or assistant leader. There are 7 total areas of this dungeon, each protected by a powerful BOSS. Defeat them to move on to the next area and win valuable rewards, including guild contribution, guild wealth, and prize packs. Once again, Guild Inferno can only challenged once a week, so remember to bring your best weapons and fellow guild members along for the fight!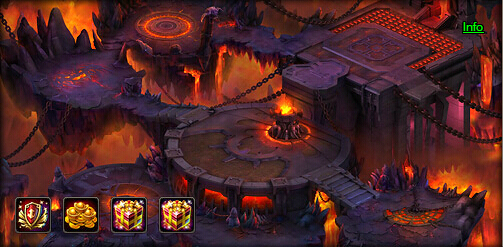 [Announcement] Eternal Saga Events for 6/5 – 6/11
It Pays to Consume
Duration: 6/5 - 6/11 11:59 PM (Server Time)
Servers: S1-S38, K1

Description: Spend unbound gold and be rewarded! For the duration of this event, players who spend certain amounts will get bonus accessories and items. Rewards can be redeemed by clicking the "Timed Rewards" icon in the top-right corner of the screen.

Note: Purchases made in the Market or with bound gold are not included in this event.
| | |
| --- | --- |
| Gold Spent | Rewards |
| 300 | 9 Rose Bouquet x2, Upgrade Rune Fragment x2, Demon Shard x2, Epic Refine Stone x2, Superior Purse x2 |
| 800 | Spirit Protection Rune x1, Equipment Upgrade Rune x1, Demon Shard x3, Soul Shard x3, Epic Refine Stone x3, Superior Purse x3 |
| 2,400 | Spirit Protection Rune x1, Mount Aptitude Rune x1, Equipment Upgrade Rune x1, Demon Shard x5, Dragon Shard x5, Epic Refine Stone x5, Superior Purse x5 |
| 8,000 | Lovely Fox Morph Card (Permanent) x1, Spirit Protection Rune x1, Mount Growth Rune x1, Equipment Upgrade Rune x2, Demon Shard x8, Soul Shard x5, Dragon Shard x5, Superior Purse x8 |
| 16,000 | Water Sprite Morph Card x1, Spirit Protection Rune x1, Mount Aptitude Rune x2, Mount Growth Rune x2, Equipment Upgrade Rune x3, Demon Shard x10, Soul Shard x8, Dragon Shard x8, Superior Purse x10 |
| 30,000 | Dolphin Morph Card (Permanent) x1, Spirit Protection Rune x3, Mount Aptitude Rune x3, Mount Growth Rune x3, Equipment Upgrade Rune x4, Demon Shard x12, Soul Shard x10, Dragon Shard x10, Superior Purse x12 |
Red Hearts Drop

Duration: 6/5 Maintenance - Next Update

Servers: All

Description: From June 5th to the next maintenance, Red Hearts will be dropping in Demonhunt, Scimitar Valley, Molluscan Alcove, Elphame, Shadow Keep, and Demonsburg. Use them in the Forge to synthesize Celebration Packs containing a special buff and special items.







+